Sahara Surreal at The Empty Quarter
Sahara Surreal is a new exhibition that opened at The Empty Quarter on 7th September and will be on till 14th October 2011. It's a group exhibition that includes photography and design projects. The gallery describes the show "trails the bandwidth of 21st century life in the Great Desert, unhinging stereotypes along the way". It touches upon injustice, empowerment, displaced people and environmental solutions. Please don't miss this exhibition. It makes you observe, think and question.
Here's a small selection of work from this exhibition.
The Dynamics of Dust by Philippe Dudouit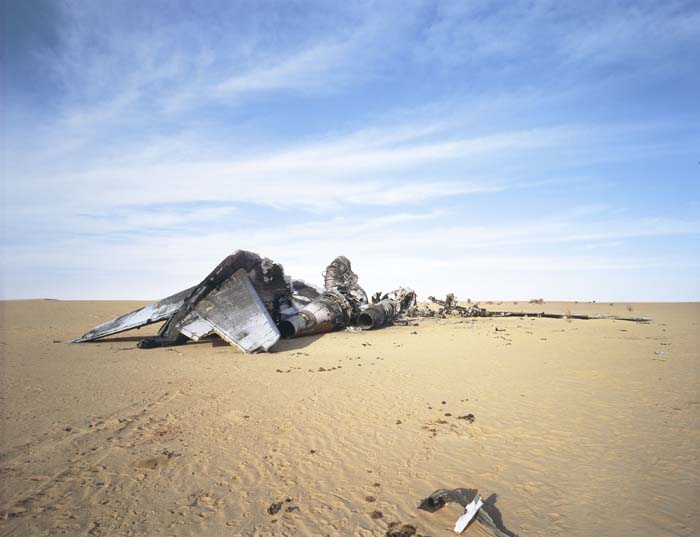 Philippe Dudouit is one of the few to visit the Tuareg rebels of Mali and Niger dwelling in zones off-limit to tourists due to unsettling political changes. His photos are eerie but beautiful.
The Tuaregs have always gone through the Sahara without asking anything to anyone. For a long time, they would lead tens of thousands of western tourists into the most beautiful places of the desert. For a long time, these areas were a racing track for the caravan of cars, dune buggies, motorbikes and trucks in the Paris-Dakar rally.

But now, the game has changed. At first glance, the rise of Islamic terrorism is to blame: it would have transformed the balance of the Sahara. But looking at things closer, the reality is much more complex. The area is now facing a cocktail made out of the local population, armed Salafists groups, drug traffickers and smugglers, topped off with international interests jockeying to win mining rights.

Today, almost all of Mali, Niger and Mauritania have become a red zone.


The Last Colony by Andrew McConnell
Andrew McConnell photographed Saharawis from all walks of life, creating a fascinating portrait of the disputed Western Sahara region which doesn't get any media exposure. His portrait series, The Last Colony won 1st prize in the portrait series category in this year's World Press Photo contest.
The portraits are very powerful and reading the quotes attached to each portrait adds another dimension to the series. It makes it hard to forget what you see. Read more about The Last Colony series and the disputed Western Sahara region.
 
Journalist, pictured in Tifariti, in Polisario controlled Western Sahara (Sahrawi Arab Democratic Republic).
I was born in El Aaiún refugee camp in 1984. I thought when I was a little girl that it was the nicest place in the world because I don't know anything other than the camps. My childhood was very nice. We played all night, we never had anything to fear, even the darkness. When I was ten I went to Spain with the Vacations in Peace program, that is when I began to realise we were refugees but I didn't stop liking home. I think wherever I go I will always like this place, we are altogether here, we share everything.
I think the world has betrayed the Polisario. The Polisario wanted peace and had faith in the process and they gave a lot for the chance to create peace but I think the world didn't appreciate that, especially the UN and Morocco. The people are ready to sacrifice themselves for independence. The ceasefire had advantages in that the Polisario had the chance to organise everything in the camps and now the people are educated and we understand democracy but the negative is we are still here, without land, and relying on international aid. I hope the Sahrawi will have the chance for a referendum to decide their future, that's all. I hope the chance comes through peace.

48, human rights activist, pictured near El Aaiún city, in Moroccan controlled Western Sahara (Sahrawi Arab Democratic Republic).
In 1987 I was arrested along with five hundred others for trying to organise a demonstration on independence before a big United Nations visit. They held eighty including nineteen women. They interrogated me and used physical and psychological torture. They would put chemicals in my hair that made me faint. I was electrocuted on the arms and back and was bitten by dogs. Later they would laugh and say that there are no dogs and I must be imagining things. It was the same thing you see in Iraq but here we have no media attention to show it. I was released in 1991 along with three hundred and twenty four people, some of whom had been held since the invasion, seventy eight were women.

We have a conviction that we will achieve independence but it depends on international pressure, our case it very just and fair. It [pressure] will come from the allies of Morocco, like France, the US and Spain. We have no direct contact with Polisario but we share the same gaols. As a defender of human rights we are all about a peaceful solution. Whether the Polisario want to go back to war is up to them but as a civil society we are calling for a peaceful solution and this will come from international pressure.
Plastic Gold by Florie Salnot
Florie Salnot have designed a technique and some specific tools to enable the Saharawirefugees to produce pieces of jewelry with the very limited resources, i.e. plastic bottles and sand, which are available in their camps. The aim is to offer Saharawis a sustainable way for generating income and to reduce dependency on humanitarian aid, and to also provide them with an open-source technique and tools with which they can design their own pieces and invigorate their local craft traditions in an original way.
You can read more about The Plastic Bottle project here, a project was enabled thanks Sandblast, an arts and human rights charity working with the indigenous people from Western Sahara, the Saharawis whose identity and culture is threatened by the impact of exile and Morocco's occupation. Sandblast wants to empower the Saharawis, to tell their own story, promote their own culture and earn a living through the arts.
Here's a video where you can see the technique designed by Florie Salnot and the workshops she conducted.

Desert Cities by Aglaïa Konrad
Aglaïa Konrad focuses on the programmed "concrete-ization" of the desert in Egypt's struggling satellite cities. This reminded me of some of the projects in Dubai, where supply exceeds demands and some of the large scale constructions of projects that will always look at odds with its surroundings.
Aglaïa Konrad discovered the Egyptian 'Desert Cities' during a brief visit to Cairo in 1992, becoming intrigued by the vast scale of this long term project. The project she instigated, explores the application of modernist principles to the architecture of the new cities that have been emerging over the last 15 years, but still seem hardily occupied.

Aglaïa Konrad focuses a direct gaze on cities like New Cairo, Golf City, Utopia or Badr City, spotlighting an improbable dialogue between imported models and vernacular elements, constructions and sites, desert and communities, modernity and tradition.
Dune by Magnus Larsson
Architect Magnus Larsson proposes a fascinating landscape project which I think many in this region should listen to.
He proposes a 6,000km long wall of artificially solidified sandstone architecture that would span the Sahara Desert, east to west, offering a combination of refugee housing and a "green wall" against the future spread of the desert.
Architects create spaces that accommodate human activity. As opposed to many of its contemporary counterparts, Dune is not so much focused on the styling of that activity, as on the supporting of it. While designed to visually seduce, Dune is not primarily a formal exercise, but a social, ecological, cultural one. How are we to live with the desert, in the desert, within the desert?

Here's Magnus Larsson's TED talk, Turning dunes into architecture from November 2009

Solar Sinter by Markus Kayser
In his desert manufacturing experiments, Markus Kayser focuses the raw energy of the Saharan sun in laserbeams that cut wood and make glass from sand.
In a world increasingly concerned with questions of energy production and raw material shortages, this project explores the potential of desert manufacturing, where energy and material occur in abundance.In this experiment sunlight and sand are used as raw energy and material to produce glass objects using a 3D printing process, that combines natural energy and material with high-tech production technology.

Solar-sintering aims to raise questions about the future of manufacturing and triggers dreams of the full utilisation of the production potential of the world's most efficient energy resource - the sun. Whilst not providing definitive answers, this experiment aims to provide a point of departure for fresh thinking.

Exhibition details
Date: 7th September - 14th October 2011
Venue: The Empty Quarter, Gate Village, Bldg 2, DIFC Dubai, UAE
Phone: +971 4 323 1210